Follow Julien on his adventure!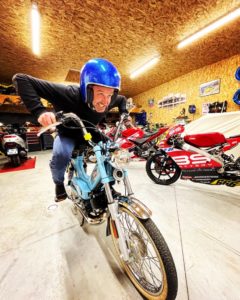 Our colleague Julien TOURSCHER and his friends start today one of the craziest riding challenges called "ON THE MOB AGAIN" that we never heard: Riding 1 094 kilometers including 38200m D+ across France, Switzerland, Italy in 8 days with… a MOPED!
The group of 6 riders will ride and camping out from 21 to 29th July, carrying all their materials (tent, sleeping bag…) on the mopped as no assistance will be possible during the road trip. Our teammate Julien worked hard on the mechanical preparation of six mopeds. He picked Tomos models from Slovenia, that could withstand this long journey: "We had to find robust mopeds with straps to prevent the engines from breaking – it's safer and performs better. We also took lot of time to check each moped and all are powered by BS Battery BTX4L SLA." said Julien.